This page gives you a feel of recent activities that we have taken part in and also links to any special web pages that have been created for them. See also the Gallery pages.
Spring Bank Holiday Camp – 2014
Didn't do quite so well this year, but still had a lot of fun. Lots of wet kit to hang up and dry before Cubs take it all out again on the 6th June! Here's a short film of it being put away – https://www.youtube.com/watch?v=pQyW2rHljsU
Wales – February 2014
Had a wet and windy weekend in Wales. Spent Saturday in Cardiff going around the Millennium Stadium, then down to Cardiff Bay and then on to swimming before returning to the cottage. Sun was much better and allowed us to go for a lovely walk around the Pontistill Resevoir and out into the Brecon Beacons. Monday was severely wet again, but we had an indoor session booked at the Llangorse Activity Centre on our way home.
Scout Troop Does the Double at Spring Bank Holiday Camp – 2013

It was wet and windy when the Scouts arrived on Friday evening, and very difficult pitching tents, however the rest of the weekend was perfect for the annual Competition Camp.
Activities included Climbing, Archery, Kayaking, and Competition Activities included Volleyball, Camp Craft, Gateway, A-Frame Racing, Ready Steady Cook and of course Cyclo Cross.
At Camp Close on Monday, 12th Chichester Scouts were rewarded for all their efforts by being announced the winners of both the Scout Pennant and the Cyclo Cross Trophies.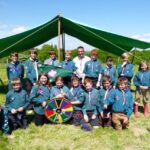 St George's Day Parade – Sun 28th April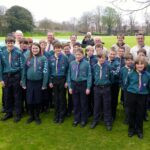 It wasn't exactly warm, but at least it wasn't raining.
We had an excellent turnout of Scouts, Cubs and Beavers to this annual celebration of our Patron Saint and also to renew our Scout Promise.
Several Cubs and Beavers also received their Chief Scouts Silver and Bronze Award Certificates.
Fire Safety Badge
Following a visit to the local Fire Station, we had an evening learning about Fire Safety in and around the home. During the presentation, we showed the Scouts the following YouTube videos:
Ready, Steady, Cook Competition
9 Teams took part in this competition at the 12th HQ – we entered two teams.
Unfortunately we were just pipped into 2nd place by 1 point.
Winter Camp 2013
Follow this link for Winter Camp 2013
Summer Camp 2012
Follow this link for Postcards from the Land of Nod
Junior Downsmen Competition – June 2012
We entered one Junior Team and one Novice Team into this two day walking and camping competition.
The distances involved were much longer than last year – 22km on day one and 18km on day two – too much really.
The Junior Team consisted of Tom, Thomas, Sam and Will.
The Novice Team consisted of Matthew, Elliot, Finn, Rachael, Zoe and Oscar.
Both teams did really well over the whole weekend.
The Junior Team came in 1st Place, winning the competition with 327 points.
Had the Novice Team been part of the main competition, they would have come in 3rd place with 301 points.
Spring Bank Holiday Camp – June 2012
16 Scouts and 4 leaders attended Spring Bank Holiday Camp at West Dean. The camp site was on a hill which made sleeping tricky.
Weather was changeable but we still had a great time.
On the Saturday, we attended the Chichester Gala Parade as part of the Jubilee Celebrations.
The rest of the weekend was taken up with various competitions from cyclo-cross to cooking.
We came 4th (out of seven troop) in the Scout Pennant Competition, and we won the Cyclo-Cross Competition.
Leaders Weekend – April 2012
10 Leaders went to Wales for a weekend of walking and relaxing at the CYAT Bunkhouse. The rest of the country had rain and flood alerts, but on the Saturday, the Leaders had no rain whilst walking in the Black Mountain region – just a very strong wind! Sunday was slightly worse though and we got very wet. The drive home in the evening wasn't much better either!
St. George's Day Parade
Excellent turnout at the annual parade and service. 22 out of 28 Scouts were present and looked very smart.
Spring Term 2012 – Jan to Mar
Lots of cooking / Ready Steady Cook Competition
Making Survival Tins
Indoor Obstacle Races
Caving Trip to Somerset
Challenge Evenings
Drug and Alcohol Awareness